How Did A Street Vendor Become The Owner Of A Restaurant Chain With A Turnover Of 18 Million Rupees?
A kid ridiculed in school for making parrotas in his father's street restaurants has worked hard to change his situation and now owns a restaurant chain with annual sales reaching Rs 18 billion in just two years.
From being a street vendor to a career as a chef at a five-star hotel on Grand Cayman Island to returning to Chennai to start a restaurant chain, it has been an incredible journey for Suresh Chinnasamy, whose story can inspire anyone.
At 37 years of age, full of positive energy, Suresh, founder of the restaurant chain Samy's Dosakall, is free of any emotional baggage and shares happy memories of his childhood.
"My father opened his first stroller restaurant on Besant Nagar Beach in 1979 and then set up one on Marina Beach. In 1987 he rented a small room in Adyar, where he served lunch and began serving full meals with mutton and chicken kuzhambu (sauce), "Suresh remembers, reliving his childhood, which was marked by a three-year break from school. when the family moved from Chennai to their hometown in the Dindigul district to open a restaurant there."
"I started helping my father when I was 12 years old. My brother and I, helped prepare the food and wash the dishes, "says Suresh, who was then a student at Olcott Memorial School, where he received free lunch and education.
However, he stopped attending school when the family moved to Dindigul at the age of 13. His father returned and started farming again in his village of Periyakottai. In addition, he also opened a small restaurant in the nearby town of Palani.
His brother stayed in the village to tend the crops and attend the local school while Suresh worked in the restaurant with his father. However, the family did not get the expected income from farming and decided to return to Chennai after two years.
In Chennai, they rented space at Sreenivasapuram on the East Coast Road and reopened their grocery store. He was only 15 when Suresh volunteered to set up a separate food van about 100 yards from his father's outlet and began selling Idles, Dosas, and Poories.
"Soon I was selling more than my father. If I was earning Rs 200 a day, I would sell them for about Rs 250. Later I expanded the cart. My mom took care of it, and for the first time we started hiring people "says Suresh.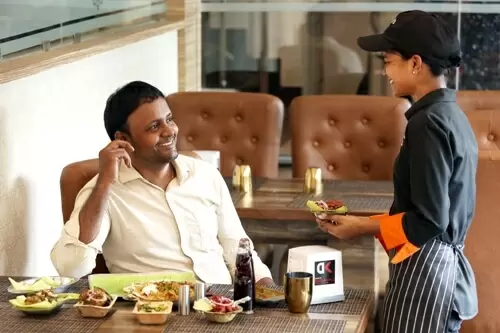 His life took a dramatic turn when he took the advice of an elderly client and attended a class in which he was preparing to run as a private candidate for the 10th-grade exams.
He studied every day between 11 p.m. and 1 p.m. after returning from work, passed the exam with 37%, and attended Arignar Anna Government High School in Besant Nagar, where he studied until grade 12.
At school, his classmates ridiculed him by saying parottakara payan' (parotta making boy)' but I wasn't worried about their comments or ashamed of my job. It just motivated me to work harder and put bring my family in better status, "Suresh says. who continued the food truck business after leaving school.
After passing grade 12, he attended the BA Corporate Secretary Evening Course with DB Jain College at Thoraipakkam in 1997, and the following year he enrolled for a Diploma in Hospitality Management at Madras Hotel Management Institute in Porur.
"We had made money in our business by now and I realized that the only way to take it to the next level was through education and started to focus on my studies."
"I attended hotel classes from the morning until 3 pm, after which I worked in the kitchen of the Savera hotel until around midnight in order to gain knowledge and practical experience with the authorization from the institute, "Suresh explains.
It was a love marriage. I knew Divya when I worked at Savera, "he reveals.
After having saved a good amount, the couple returned to Chennai. Suresh joined the chain chef in Chennai for about two years and helped build the brand.
In 2016, he decided to start his restaurant chain and, with an investment of 1.8 billion rupees, opened a 10,000-square-foot food yard at the Spectrum Mall in Peramburu.
All properties have a banquet hall and guest rooms and provide additional income for the business.
"I invest my own money and reinvest profits from my hotels in new businesses." I borrow money from private investors when there is a shortage, and I repay the money to win.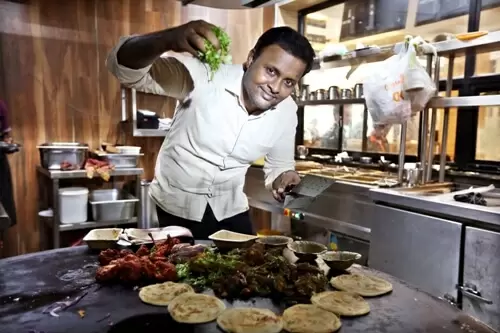 "Our revenues for the fiscal year 2017-18 are around Rs 18 billion. My hotels are profitable and I share 25 percent of the profits with my employees every month. This makes them happy and everyone is ready to take the next step." The business is more profitable, "says Suresh, who has registered his company as a self-employed person and currently employs around 400 people.
Its restaurants have a reputation for tasty non-vegetarian food, and Suresh strives to capitalize on the goodwill of its customers. At the Vadapalani store, it introduced an innovative tariff of Rs 99 for all meals intended to attract crowds.
As a software engineer in the United States, his brother is doing well. His parents supervise cooking in their central kitchen in Guindy and visit the unit at least three times a week.
"My vision is to play big and do my best to grow," says Suresh, who now teaches his wife yoga and music to children and spends time with her six-year-old son, Surya.
What's Your Reaction?